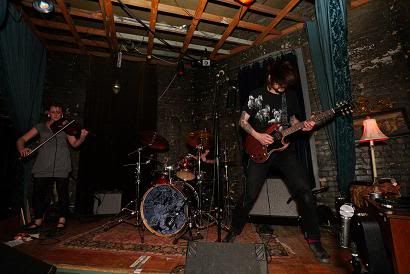 Photo:
Sharyn Morrow

A .RAR file containing this recording is available here.
Blood Folke
The Kitty Cat Klub
Minneapolis, MN
Thursday March 17th 2011
Recorded by: empty (emptystapes AT gmail DOT com)
Source 1: AKG 414B-xls (Hypers) > Silver Quad customs > UA-5 (BM2p+) > iRiver h120 (Optical @ 16bit 44.1kHz WAV)
Source 2: Soundboard > iRiver h120 (Line-in @ 16bit 44.1kHz WAV)
Transfer: h120 > USB 2.0 > PC [WAV]
Edit: Pro Tools magic?
This Recording is for Promotional & Archival Purposes Only.
01. Winter's Summer
02. Red Cardigan
03. Merzerum
04. Termination Shield
Dan - guitar & vocals
Lauren - viola
Bryan - percussion
Blood Folke
and
The Night
played Perish07.
Perish
is every third Thursday of the month at
The Kitty Cat Klub
. This was Blood Folke's debut public performance? Several people in the room were confused by the notion of this immediately after the band finished. The tightness and precision with which they played suggested they had been booking shows for some time now. The week proceeding the show I was telling people that this was the best local set I had seen all year. A month and a half later that statement still holds true. Thanks to the band and the KCK for allowing this recording to happen. Thanks to J.M. for all of his efforts in post.