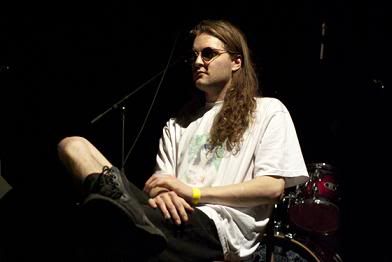 Photo by Adam Bubolz
Jon Jacob 3
The Loring Theater
Heliotrope Eight
Minneapolis, MN
Saturday May 28th 2011
Recorded by: empty (emptystapes AT gmail DOT com)
Location: DFC stage lip, 5'^
Source: AKG 414B-xls (Wide Card) > Silver Quad customs > UA-5 (BM2p+) > iRiver h120 (Optical @ 16bit 44.1kHz WAV)
Transfer: h120 > USB 2.0 > PC [WAV > RazorLame> 320kbps mp3]
Edit: Compression (Sound Forge 10) Track indexing (CD Wave)
This Recording is for Promotional & Archival Purposes Only.
Woof this recording here.
Haven't heard Albert's new album
James St Murder Laden Mitten Wonder
yet? It's available through
Totally Gross National Product
. Thank you to the bands, Heliotrope and especially The Loring Theater for allowing me to set up residence last weekend.