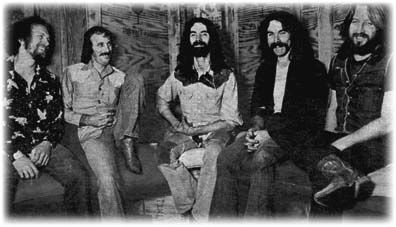 The Flying Burrito Brothers
circa '74
The Flying Dorito Brothers
Cause Spirits & Soundbar
Minneapolis, MN
Tuesday April 12th 2011
Taper: empty (emptystapes AT gmail DOT com)
Location: Along the left wall near the front. ~7' ^
Source: AKG 414B-xls (Hypers) > Silver Quad customs > UA-5 (BM2p+) > iRiver h120 (Optical @ 16bit 44.1kHz WAV)
Transfer: h120 > USB 2.0 > PC [WAV > razorlame > 320kbps]
Edit: Sound Forge 10 (compression + fades)
This Recording is for Promotional & Archival Purposes Only.
The Flying Dorito Brothers - "Older Guys"
The Flying Dorito Brothers - "Hot Burrito #1"
Cause
installed a new PA system last Monday so I was certainly interested in checking out the first show with it in use. I've never been a huge fan of post-'60s Country but The Flying Dorito Brothers are legit and they do their forefathers justice in my book. Word is this was their 3rd ever show. Night Moves and The Burglars supported. Crowds in this room are always a little but that's the nature of the beast and it was a fun night nonetheless.