Marijuana Deathsquads
Nick and Eddie (XXV)
Minneapolis, MN
Wednesday July 21st 2010
Taper: empty emptystapes AT gmail DOT com)
Location: In the spot, 5' ^
Source: AKG 414B-xls (Wide Cards) > Silver Quad customs > UA-5 (BM2p+) > iRiver h120 (Optical @ 16bit 44.1kHz WAV)
Transfer: h120 > USB 2.0 > PC [WAV > razorlame > 320kbps]
Week Twenty Five:
Ryan
Isaac
Ben
Freddy
Brad Cook (Megafaun)
Travis Bos (Chibalo, Song of Zarathustra, Chariots)
Jeremy Nutzman (Bight Club, Spider Baby)
Back from a six week hiatus and this is still my favorite way to spend Wednesday nights around town. Thanks to
Nick and Eddie
.
You need to hear this one to believe it.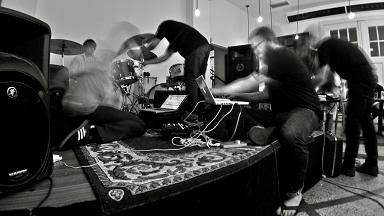 Photo by Ben Clark