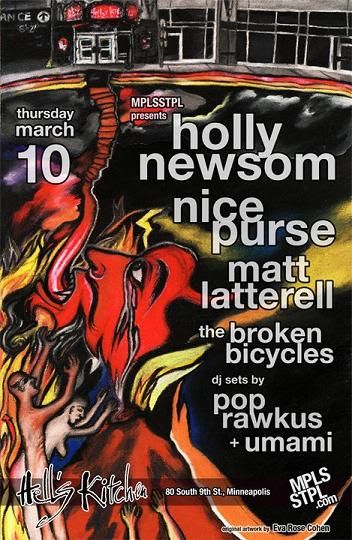 The Broken Bicycles
Hell's Kitchen
Minneapolis, MN
Thursday March 10th 2011
Taper: empty (emptystapes AT gmail DOT com)
Location: AB, off to the left, ~20' back, ~7' ^
Source: AKG 414B-xls (Hypers) > Silver Quad customs > UA-5 (BM2p+) > iRiver h120 (Optical @ 16bit 44.1kHz WAV)
Transfer: h120 > USB 2.0 > PC [WAV > Razorlame > 320kbps mp3]
Edit: CD Wave (tracking) Sound Forge 10 (compression)
This Recording is for Promotional & Archival Purposes Only.
You Are My Sunshine
Skeleton Key
Cry Me a Liver
Bandcamp
|
Facebook
Please enjoy the first 3 songs from The Broken Bicycles recent set at
Hell's Kitchen
. New album Lost and Found available on the Bandcamp page now! This show was presented by
MPLSSTPL.com
and also featured performances by
Holly Newsom
,
Nice Purse
and
Matt Latterell
.