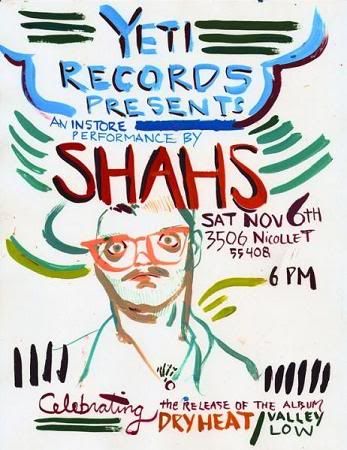 Shahs
Yeti Records (First In-store!)
Minneapolis, MN
Saturday November 6th 2010
Taper: empty (emptystapes AT gmail DOT com)
Location: AB, 12' back, 5.5' ^
Source: AKG 414B-xls (Cards) > Silver Quad customs > UA-5 (BM2p+) > iRiver h120 (Optical @ 16bit 44.1kHz WAV)
Transfer: h120 > USB 2.0 > PC [WAV > RazorLame> 320kbps mp3]
Edit: Sound Forge 10 (Compression)
This Recording is for Promotional & Archival Purposes Only.
Handreader
Big Room
Too Old
Nothing Was Delivered
St-Gilles
Money For Nothing
Pocket Gypsy
Medicine Girls
Shahs Live at Yeti Records (11/06/10)
(Right Click and Save Link As or Control + Click)
The first ever in-store performance at
Yeti Records
featured a vibrant 38 minute set from one time Minneapolis based
Shahs
. Missoula can have him as long as they agree to annual visitations. Yeti records is located at 35th & Nicollet Ave. South. They are open Tuesday through Saturday 12pm to 8pm and Sunday 12pm to 6pm.