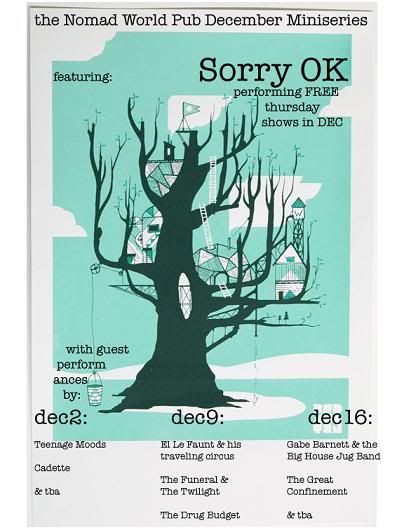 A .RAR file containing this recording can be downloaded here.
Sorry OK
The Nomad
Minneapolis, MN
Thursday December 9th 2010
This Recording is for Promotional & Archival Purposes Only.
01. Vaguely Familiar
02. The Bottle Will Still Have Me
03. Long Long Time
04. I Need To See Somebody
05. Pick Up Yer' Guns
06. You Will Believe
07. Untitled Parts 1 & 2
08. Luna Be
Facebook
|
Myspace
You can see Sorry OK tonight as part of the
Rock for Roe Fundraiser
at The Cedar along with Teenage Moods, Bouncer Fighter, Kitten Forever and Nice Purse. Doors are at 7pm.
Taper: empty (emptystapes AT gmail DOT com)
Location: AB, left stack, 10' back, ~7.5' ^
Source: AKG 414B-xls (Cards) > Silver Quad customs > UA-5 (BM2p+) > iRiver h120 (Optical @ 16bit 44.1kHz WAV)
Transfer: h120 > USB 2.0 > PC [WAV > RazorLame> 320kbps mp3]
Edit: Tracking (CD Wave) Mild Compression (Sound Forge 10)