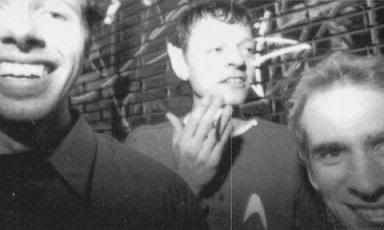 Many (I mean MANY) friends and close associates will be attending the
Hammerhead
show at
The Turf Club
this evening. Top shelf support in the form of
STNNNG
and
Seawhores
will bring people inside from the sweaty Pleasure Garden. Hammerhead played Death By Audio in NYC this past June and will also be playing the SOLD OUT
AmRep
25th Anniversary show on August 28th. With that said, tonight's show will be the first and only time the local crowd has seen them in 14 some years.
Friends and associates, I hope the Turf is a blast but I have to catch up with
Lytle
and Burtch at
The Triple Rock
. See, they have this new band,
Admiral Radley
with Aaron Espinoza and Ariana Murray from Earlimart. I've been asked for the past couple of weeks if I was going to record Hammerhead. As much as I would like to I can't always be in "the spot" to record "the show" but hopefully someone comes through. I'm sure there will be a video camera in the room. Video is where it's at.