Download a .RAR file containing this recording here.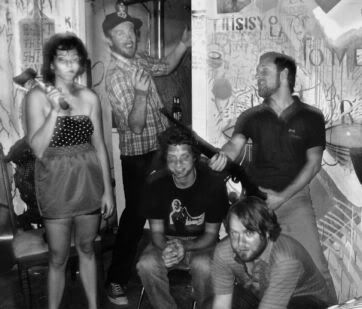 Whitesand/Badlands
The Turf Club
St. Paul, MN
Saturday July 17th 2010
Taper: J.D. & B.B.
Source: DFC, ceiling mounted Rhode NT4 > SBD > 1/4" outs > iRiver h120 (Line-In @ 16bit 44.1kHz WAV)
Transfer: h120 > USB 2.0 > PC [WAV > RazorLame> 320kbps mp3]
Edit: CD Wave (tracking) Sound Forge 10 (compression)
This Recording is for Promotional & Archival Purposes Only.
01. Witch Hunting
02. Humans, #1
03. Brandspeakeasy
04. Sunburn
05. Magician's Hat
Site
|
Facebook
This past July Whitesand/Badlands released the 2x LP "Seeding The Clouds" through Magnetic Ghost. The album can be purchased directly through the band via their website or through one of various local record stores including;
Treehouse
,
Electric Fetus
,
Extreme Noise
and
Cheapo
. A high quality digital download is available on the band's site as well.
Whitesand/Badlands,
Skoal Kodiak
and
Haunted House
(
Lesh Is More
CD Release) supported
Clipd Beaks
. This was Clipd Beaks first show "back home" in almost 3 years and one of their only shows outside of California so far this year. Unfortunately I was out of town for this stellar line up. Enter my homie and fellow live music archiving comrade Jon Davis (he's no slouch of a musician either;
ghostband
, Haunted House,
Black Audience
& Poop Smeared Mirror to name a few). The night before I flew out of town Jon was playing the Lightning Bolt show with PSM. Since I was recording this show it was the perfect opportunity to float him the gear needed to record at The Turf. With the help of the legendary B. Batson we were able to secure tapes of all 4 sets. So in short, without the help of J.D. and B.B. these sick recordings would not exist. Cheers fellas.