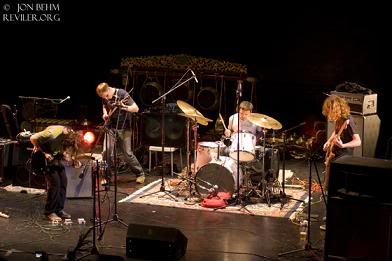 Photo by Jon Behm
FLAC
|
320kbps mp3

Nomia
May 26, 2011
Heliotrope 8, Loring Theater
Minneapolis, MN
Taper: pjp
Source1: Schoeps MK4 > Nbox > Edirol R44 @ 24/48
Source2: SBD > Edirol R44 @ 24/48
Location: Clamped onto front of balcony, above and left of SBD
Transfer: R44 > USB > Audition > CDwav > .flac
Editing: Mixed and resampled to 16/44.1 with Adobe Audition
Total Running Time: 35:53
This Recording is for Promotional & Archival Purposes Only.
01. Perseus
02. Red Wing
03. Mustache and a Cigarette
04. Untitled
Myspace
|
Facebook
|
Youtube
|
Last.fm
For the first two nights of
Heliotrope
I was down front and PJ was in the balcony running 4 tracks into the R44. This is his mix of Nomia from night one. It's definitely one of my personal favorite sets from the entire festival. Thank you to the bands, Heliotrope and
The Loring Theater
for allowing us to record.