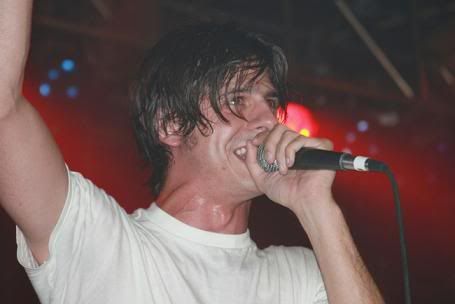 Mike's Mom Kathy Averill has set up a
PayPal account
for donations to go towards his memorial services. More information is
available here
. A benefit is being planned for November 9th which would have been Mike's 29th birthday.
I ended up staying at a friend's house last night and didn't get back this way til around 3pm. I opened up facebook and the first thing I saw was "Micheal Larsen It is with great pain and sadness that I tell you my son Mikey (Eyedea) has passed away. At this time we kindly request your respect and our privacy as we process this devastating loss. On behalf of Mikey's family, close friends and fans. Thank you Kathy Averill (Mikey's mom)." Of course I didn't want to believe it so I started telling myself that it must be some sick internet joke. Maybe someone hacked his facebook account? Yeah this can't be the truth.
I called Chris to make sure it was real. He said that people were gathering at Kathy's house so I started walking towards Lake Street. Catching the 21 to Hiawatha I sprinted to the train just in time for it to pull away from the platform. By the time I got to the 46th street station the 74 wasn't leaving for another 25 minutes. There was only one more bus separating me from the West End neighborhood of St. Paul where Mike grew up so I waited it out. The conversations going on around me all seemed like they were taking place in the next room. I could tell that people were talking but I couldn't focus in on any of the words. I started thinking about running into Mike on the patio of Casey's on 35th & Nicollet. It would have been Wednesday the 6th because they were doing karaoke and we would later joke about which songs we were going to do. I had to bust his chops a bit "What are you doing on this side of the river not playing a show?" "A buddy of mine from way back lives a block away..." motioning to his friend "He used to beat me up when we were kids" flashing the all to well known Mikey smile.
He was excited to be a part of Guitar Party, a new group started by Jeremy Ylvisaker featuring Jeremy's 6 year old daughter Mijah on vocal duties. They had a show coming up at the Cedar that Friday and I said I'd see him there. My last memories of Mike were watching his tenderhearted interactions with Mijah talking to her on the level instead of treating her like she was some little kid. I left out the back door to head back to the Triple Rock and ran into Mike in the parking lot. Like always he was waiting with a hug and a "Thank you for taping." As a general rule "taping" has always been frowned upon in the "hip hop" community but for whatever reason Mike always embraced it. It was unheard of to be able to walk into a Rap show the stature of Eyedea & Abilites and be able to set up equipment for any sort of documentation. It just did not happen unless you were involved with some sort of official release but here I was sending Mike text messages to get people added to the list for audio/video in Salt Lake City or whichever city they happened to be in that night. I'm a firm believer that after the loss of anyone whom we care about no matter if they were an electrician or a musician it's important to have records left. Perhaps Mike felt the same to a degree.