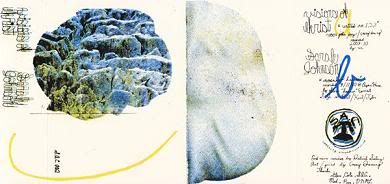 Well goddamn it. I can't always record everything on both sides of the river every night. Last Wednesday Sarah Johnson and Visions of Christ had their split cassette release show at The Turf Club which included one of the sickest bills that side of the Mississippi. Check out
Soothing Almonds Collective
for more information. Anyways I don't own a time machines or anything but if you don't already know Sarah Johnson will be moving to Asheville, NC for the winter and possibly longer. You can get the tape by contacting either of the bands. Word is SJ are halfway through their share of tapes so grab one while you can...I'm sure they will need monies for gas and gas station food on their journey to escape another Midwestern winter.
For anyone with a time machine here are your coordinates:
Wed. Oct. 6th
Turf Club
10pm $5
Sarah Johnson
Visions of Christ
Daughters of the Sun
Voyager
Lighted
Speaking of Sarah Johnson, they've already left town and you can purchase the tape in the following cities while supplies last.
Oct 14 OASIS NEW LONDON, CT
Oct 15 Castelvania PROVIDENCE, RI
Oct 16 SURREAL ESTATE NYC, NY
Oct 17 HELP! NYC, NY
Oct 18 HELP! ALLENTOWN, PA
Oct 19 JRs PHILLY, PA
Oct 20 VISITING MY MOM DC, MD
Oct 21 HOPES + DREAMS CHARLOTTESVILLE, VA
Oct 22 TBA NASHVILLE, TN
Oct 23 TBA NASHVILLE, TN
Oct 24 BREAK? WHERE?, TN
Oct 25 RANCH RANCH PERVERT PIT TAMPA, FL
Oct 26 NEW COLLEGE SARASOTA, FL
Oct 27 LOU'S BAR ORLANDO, FL
Oct 28 MEADOWS of DAN W/ YOHIMBE! CARRBORO, NC
Oct 29 GSS2 HAUS W/ YOHIMBE! RALEIGH, NC
Oct 30 GREEN BEAN W/ YOHIMBE GREENSBORO, NC
Oct 31 HOME ASHEVILLE, NC